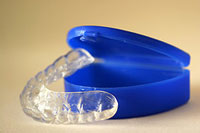 Congratulations, your orthodontic appliances are off and your smile is delightful! We would like to thank you for your efforts in helping us with your treatment. To maintain your finished result, it is imperative that you adhere to your retention schedule. If it is not followed, your teeth will shift to the extent that re-treatment, with additional expense, could be needed. Your teeth can stay straight by simply wearing your retainers as directed! The following are guidelines for your retainer wear:
● Follow the recommended schedule of wear
● Always bring all of your retainers with you for each appointment.
● Do not wear your retainers while eating or drinking.
● Clean the retainer with a tooth brush and water. Soak the retainer in a denture & retainer cleaning tablet daily. Cleaning tablets are available at the grocery store in the toothbrush aisle and specific instructions are given on the box. This product should never be placed in the mouth. Toothpaste will dull your clear plastic retainers and should not be used for cleaning them.
● Do not allow saliva to dry on your retainers, always rinse them thoroughly with water if you are removing them from your mouth for even a short time. The saliva contains proteins, minerals and bacteria that eventually form a crusty film that is very difficult to remove.
● Store the retainer in the case that was supplied by the office when it is not in your mouth. During the period of full time wear, we recommend that you keep your case with you at all times. If you need to remove your retainer to eat, it is placed in the case and then into your pocket, backpack, or purse. This way it is less likely to get lost or damaged.
● If you have a bonded retainer glued to the back of your front teeth, check this retainer regularly to confirm it is securely attached. If it comes loose, call the office. Take extra time to thoroughly brush and floss around the wire.
● If your retainers are lost or damaged, call the office. Generally new impressions are needed to fabricate new retainers and there is a replacement fee.